Best Yellow Longboard Available
Yellow is undeniably a fantastic color that exudes positivity, warmth, and energy. It's no  wonder why it's such a popular choice when it comes to fashion, home decor, and even sports equipment. Speaking of sports equipment, have you seen these yellow longboard skateboards that we have in store?
Let me tell you, these longboards are a sight to behold. With their glowing yellow color, they're sure to turn heads and make a statement wherever you go. Whether you prefer a fully yellow deck or one with yellow as the main color, we've got you covered. And the best part? We've got options for every budget, so you don't have to break the bank to get your hands on one of these beauties.
But it's not just about looks - these yellow longboards are also top-notch when it comes to performance. With a sturdy and durable construction, you can rest assured that they'll hold up well even after repeated use. Plus, we've got yellow wheels available too, so you can match your board with some stylish and functional accessories.
Discover Our Fantastic Yellow Longboards
Why is yellow such a great color for longboards?
Visibility: Yellow is a bright and eye-catching color, making it easier for others to see you while you're riding.
Safety: As a high visibility color, yellow is an excellent choice for increasing your visibility and keeping you safe on the road.
Aesthetics: Yellow can add a fun and energetic touch to your longboard, making it stand out and look unique.
Popularity: Yellow is a popular color choice for many longboarders, and you can find a wide range of yellow-colored longboards to choose from.
Optimism: Yellow is often associated with positivity and optimism, which can add to your overall riding experience.
Creativity: Yellow is a color that can inspire creativity and help you express yourself through your riding style.
Durability: Yellow is a color that can withstand wear and tear, making it a great choice for a longboard that will be used frequently.
Resale value: Yellow is a popular color for longboards, which can increase the resale value of your longboard if you decide to sell it in the future.
Versatility: Yellow is a color that can be paired with many different designs and styles, making it a versatile choice for any longboard.
Fun: Yellow is a fun and playful color that can add to the overall enjoyment of your longboarding experience.
With their sleek design and eye-catching color, our yellow longboards are sure to turn heads. But don't let their good looks fool you - they're also built to handle whatever tricks and stunts you can throw at them. So why settle for a boring old longboard when you could be riding around on a bright and bold yellow one?
So what are you waiting for? Head on over to our store and check out our selection of yellow longboard skateboards. And if you need any assistance or have any questions, don't hesitate to reach out to us.
We're here to help you find the perfect board to suit your needs and style.
Explore more with these article pages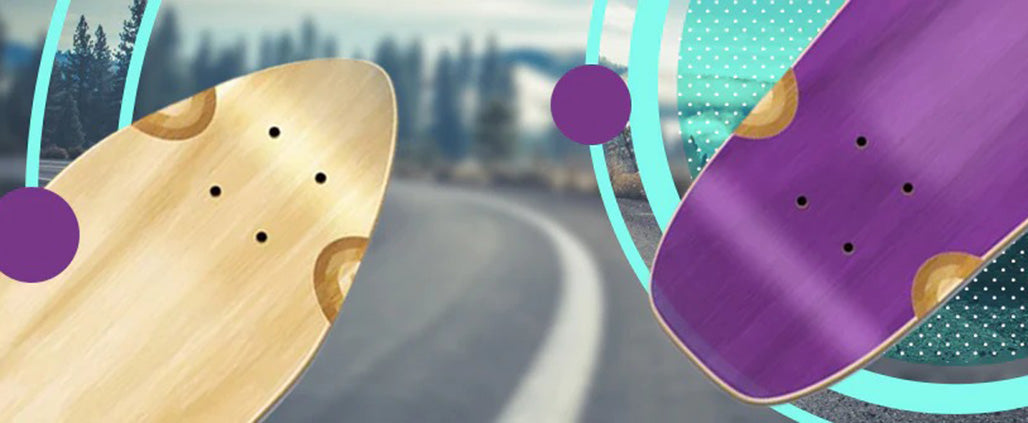 When it comes to buying a Longboard, sometimes it's difficult to decide between all the designs and artwork available, but it doesn't have to be that way, here's a better option, a blank deck. A longboard can show your style and personality, therefore when choosing a board, go for a blank deck so you can customize!
If you are starting in the world of skateboarding or longboarding, the first thing you should know is if you are goofy or regular, that is if at the time of getting on the board, you will do it with the right or left foot forward and with which foot you will propel yourself.
Surfing out of the sea? Cool! That's exactly the feeling longboard cruisers give you. Actually, at first, these types of boards were meant to have fun when there were no waves, but the good news is that now you can enjoy them anywhere.