The 10 Best Skateparks in United States
To talk about the best skateparks you will have to skate. We will talk about the most relevant country for this sport, which is just where it all came from: the United States. The most traveled skaters will have the opportunity to find out which places are the best skateparks in this incredible country, and thus give a 180° turn to their experiences, getting to know new and different places.
1.  Denver Skatepark, Colorado
Located on the right bank of the Platter River north of downtown Denver, the capital of the state of Colorado, 2205 19th Street, it has bowls for every style and level, plus an extensive street area with drawers, rails, pyramids, bank-to-wall, bank-to-ledges, euro gap, humps, bumps and flat bars.
Open from 5 a.m. to 11 p.m. it has lighting for when the sun goes down behind the Rocky Mountains. Despite not having indoor areas in all the rankings, it appears as the best in the United States.
2. Burnside Skatepark, Oregon
A mythical skatepark appeared in the '90s by the initiative of local skaters who, with their effort, dedicated their time, work, and money to build a space that over the years has appeared many times in the magazines of the sector apart from appearing in the famous video games of Tony Hawks -
Read also 9 curiosities of Tony Hawk.
It is the quintessence of what should be a skatepark under the do-it-yourself perspective, an opinion endorsed by countless pros of this discipline.
After years of negotiations with city hall bureaucrats and developers, it was officially approved as a public park and permanent stage for Portland's skate scene. This park has been developed and expanded over the past 20 years and is now recognized as one of the best skateparks in the world by skateboarders.
3. Lincoln City Skatepark, Oregon
We could talk about more than five skateparks in one, and it continues to increase in size every year. Built and designed by Dreamland, it is currently the largest skatepark in Oregon, and it seems that year after year it is getting, like the computer programs, new updates that make it an innovative facility in which more than $350,000 have already been invested.
Opened in 1999, it has water fountains, barbecues and restrooms. It is a pure skatepark where bicycles are not welcome and it remains illuminated at night. It is located between NE 22nd St and NE Reef Ave. Despite being outdoors, some areas are covered.
4. FDR Skatepark, Philadelphia
FDR Park is a skateboarders' concrete paradise, designed and built by skate enthusiasts. Built under Highway 95 and partially sheltered from the rain and snow, very frequent in the state of Pennsylvania, it is a true pilgrimage center for skateboarders on the East Coast. Created with a concept similar to that of Burnside in Oregon, it is famous for the Jams held on Independence Day, July 4th. As a peculiar fact, it is also accessible by subway at the Pattison Avenue station of the Broad Street line.
With features as characteristic as the "Dome", the "Bunker" of more than 18 meters long, and a vertical wall of more than three meters, serious challenges for skaters of all levels, especially the experienced.
5. Lake Cunningham Regional Skate Park, San Jose California
With 68,000 square feet, LCRS is the largest skatepark in the state of California. Although it is fee-based, with policies (not prices) ranging from $3 child/day to $99 annual membership, the services it offers are far from parks like Burnside or FDR, which are more urban and classic in skater aesthetics.
Group and private lessons, lighting, family-friendly schedules, and store and equipment rental make it more similar to the concept of a ski resort, but adapted to the world of skateboarding.
It has the largest inverted dome, the longest full-Pipe, and the highest vertical wall, a panorama of records. Located at 2305 S. White Road, it has something like a decent website and offers several levels for the satisfaction of the beginner and the more pro.
6. Venice Beach Skatepark, LA, California
This beach skatepark is located at 1800 Ocean Front Walk in the mythical Venice in Los Angeles. Fundamentally specialized in the street, it becomes a perfect alternative to spend a summer afternoon in which we should not forget the sunscreen.
7. Kona Skate Park, Jacksonville, Florida
Kona Skatepark at 8739 Kona Ave. is the oldest privately owned skatepark in the United States, and possibly in the entire world, operating since the 70s in the United States.
Within the short history of a sport like this, Kona allows you to travel back in time and skate the old-fashioned way or choose the more contemporary street universe instead. It offers bowls, snake run, transitions, humps, vert wall, vert ramp, mini ramp, pyramids, ledges and quarter pipe. Day admission is $10 and it is closed on Mondays.
8. Louisville Extreme Park, Kentucky
This skatepark is located in the heart of the land of Bourbon, famous since 2002 for its full pipe of more than 8 meters for which many skateboarders can travel hundreds of miles to skate it. Located at 531 Franklin St. and over 3700 m2, it remains open 24 hours a day and is supported by the public authorities in particular the Louisville Metro Government. About one third of the park will be demolished and rebuilt on adjacent land on Witherspoon Street, near Clay Street, to make way for the new Louisville-Southern Indiana downtown bridge. Work on this renovation began on May 1 and it is expected to be completed by the end of 2014.
This Skatepark gained recognition and fame due to the secret tour of Tony Hawk and has, apart from the famous full pipe, 2 bowls of 3.4 meters, two bowls of 1.2 meters, a bowl of 1.8 meters, drawers, a fun layout for street, rails, railings and a vertical ramp of 4 meters. It is important to add that it has free access, restrooms and public telephones.
9. Skatepark of Tampa (S.P.O.T)
Is it a skatepark or a store? It is a must-see store and a fantastic indoor skatepark that is complemented by some outdoor facilities worthy of being among those sponsored by RedBull, including vertical ramps and loops. Operating since 1993, it is located at 4215 East Columbus Drive in the city of Tampa, Florida, and is simply one of the essential facilities to visit for the most traveled skaters.
SPOT is a very organized facility besides having one of the best skate stores in the world. From classes for kids under 12 for about $20 to many paid exceptions, if you are a member.
10. VANS SkatePark, Orange, California
And to top it all off, we could not miss the facilities that in Orange maintains the legendary brand of sneakers for skate freaks and the best website of all that we have presented in this post. In 1999 Vans, off the wall, decided to set up its facilities where nothing is missing, including the recreation of the famous Upland combi-bowl and huge routes for street, a skatepark that never disappoints.
Edges, bowls, handrails, banks, quarter pipes, mini ramp, vert ramp, pyramid, euro gap, and flat bars in outdoors and indoor environments and with variable prices ranging from $10 to annual passes for $299 that include free helmet service -Check out the
Guide for Skateboard and Longboard protections
- and branded shoes for unlimited skating in the facilities -Read also:
The 8 Best Skateboarding Shoes of All Time-.
At 20 City Boulevard West, it offers not only skateboarding, but also, we can find the best in snowboarding, surfing, BMX, and anything related to the world of inertial sports. Simply Unbeatable!
Well, we know that, from the neighborhood, skateboarding has been taken to big stages, and it has even become an Olympic sport. Clearly, it is not enough for lovers of this discipline to practice it only around their neighborhoods, but the expansion is focused on meeting new and better places where you will get to know more people who share your passion for skating, better ramps, and perhaps an experience that will mark your life.
That is just the most important thing!
Remember to visit
our website
and check out many other articles about skateboarding and longboarding we have for you.
Get to Know our Skateboards or Longboards
Explore more Skateboards or Longboard Blogs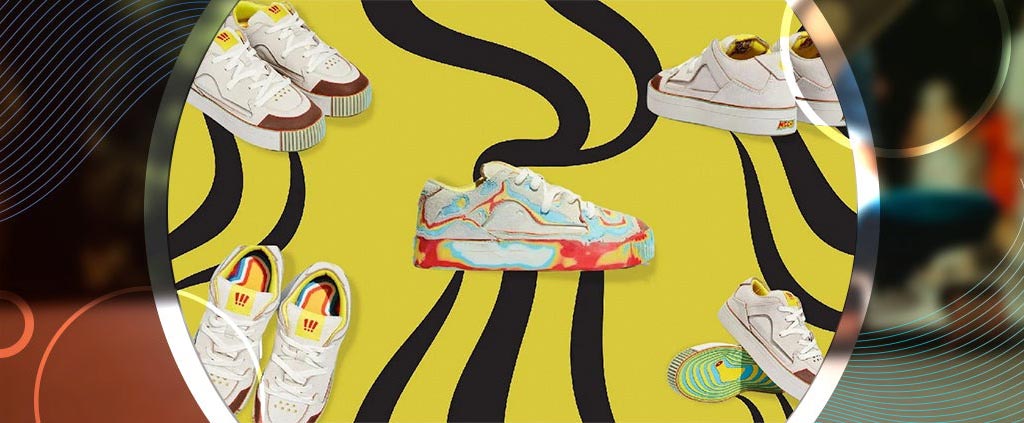 Art collective MSCHF and TV host Jimmy Fallon have launched a line of sneakers designed to reveal different colors as they wear out from continued use. Named Gobstomper, the quirky footwear is inspired by candy that changes hue as it dissolves.
Skateboarding is a sport that attracts many young people, regardless of age, gender or race, because it is versatile, offers many ways to practice it, also has multiple benefits and most importantly: it's fun.
Skateboarding has its roots in surfing. At some point in the 1950s, a group of surfers came up with bindings for wooden planks so they could "street surf" when there were no waves. The first skates were heavy, clunky, with metal and clay wheels.