Music and Skate: 9 Songs that should be on your playlist
Listening to music generally makes us more focused by distract us, for example, from listening to our own breathing or the footsteps we take or others take while running. According to experts, listening to music during exercise can improve performance by up to 15%, as music distracts us from pain and fatigue, elevates mood, increases endurance, reduces perceived effort, and can even promote metabolic efficiency.

Skateboarding is a sport that has historically been closely linked to music. That is why many skateboarders have divided their time between the passion of skating and playing an instrument or singing. For this reason, we recommend you these 9 songs that should not be missing in your playlist
JFA - Skateboard Anarchy: A song that, despite not being as famous as the previous one, was created at the same time. The group JFA (Jodie Foster's Army) was not as well known, but it was closely related to the skateboard world in the 80s. A movement that undoubtedly revolutionized the whole world, the anarchy of skateboarding!




Gang Green - Skate to hell: We continue in the 80s, when undoubtedly there was a boom in terms of skateboarding and music. We leave California to move to the East Coast and listen to how Gang Green interprets this powerful song that talks mainly about skating. Pure bliss.




NOFX - The Separation of the church and skate: Elsewhere in the United States, but this time in a more contemporary era. NOFX is one of the most important bands that has given birth to punk rock and without a doubt this is one of their best-known songs. This song is about the evolution of both punk music and skateboarding, going from being something marginalized to something politically correct.




Teenage Bottlerocket - Skate or Die: Also more contemporary and melodic. This band is very related to skateboarding. The message is very clear: "Skate or die". In the video clip of the song we can see their 90's style and the title of the song, without a doubt, is an iconic phrase that has crossed borders.




Satanic Surfers - Don't skate on my ramp: Another of the most important bands in the world of Skate Punk. In this song, they talk about someone they don't really appreciate and that's why they will never allow him to skate on their ramp. Something new, yes, they approach skateboarding from different perspectives that represent their lifestyle.




Fidlar - Wake Bake Skate: Even more contemporary than the previous groups, Fidlar talks in this track about the kind of life of many skateboarders: wake up, "toast" and skate. In the video clip they don't appear skating, but their rhythm makes you imagine yourself doing it from the moment you wake up. Everything is forgotten, thanks Skate!




Bones Brigade - Skate or die: The truth is that not much is known about this band - in fact, you won't find this one on Spotify, but with the name, it's clear that skateboarding is their thing. For those who don't know, the Bones Brigade was one of the most influential skate teams in history.
From their album "I hate myself when I am not skateboarding" comes this great song. A sport of passions.




U.S. Bombs - Skater dater: To finish, one of the songs of Duane Peters' band, skateboard and punk rock legend. "We're carvin, we're grindin, we're flyin, we're slidin" the legends, give an example of how to perfectly mix this sport with music. Two arts, two arts that are made for each other.




When skateboarding is more than a sport and becomes a way of life, a part of your life, you manage to connect perfectly with it in other parts of your life, making your life revolve around it. Well, what better way than finding good music that talks about your passion, your favorite thing in life, and that somehow helps you see skateboarding in a different way.
What are you waiting for to download this playlist and go rip it up in every skatepark in your city, or your neighborhood? You should even go out and ride and teach the tracks to your friends. If you want to know a lot more about skateboarding or longboarding, you're in the right place. Browse our skateboard site where you will find a board for whatever your style is, accessories, relevant information and articles to take your passion to the next level.
Explore more with these articles
Tony Hawk was one of the most influential skateboarders of all time. Don't forget he was a Goofy skater, and it is no coincidence the nickname he earned for his cool tricks that made the whole world perceive that Tony flew like a bird.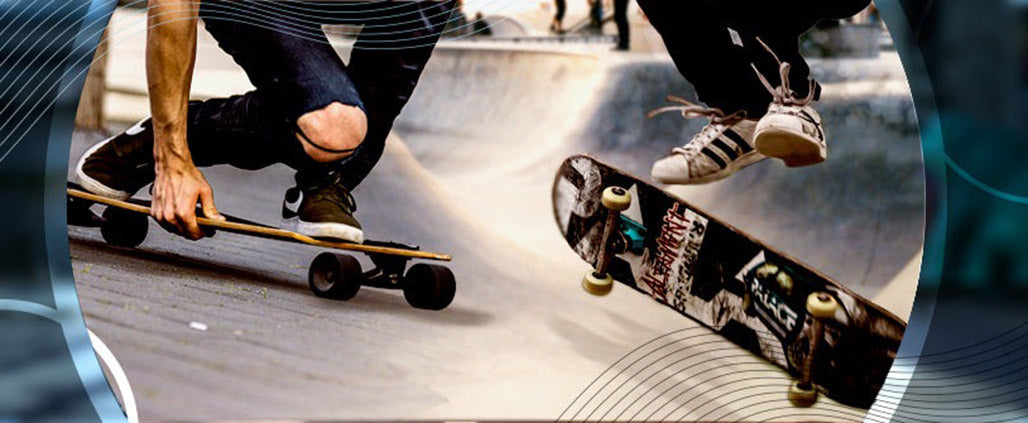 If you are just starting in the world of skating and you still don't know much about the boards that exist in this sport, you may be wondering what are the differences between a Longboard and a Skateboard? Well, both are completely different.
If you are starting in the world of skateboarding or longboarding, the first thing you should know is if you are goofy or regular, that is if at the time of getting on the board, you will do it with the right or left foot forward and with which foot you will propel yourself.