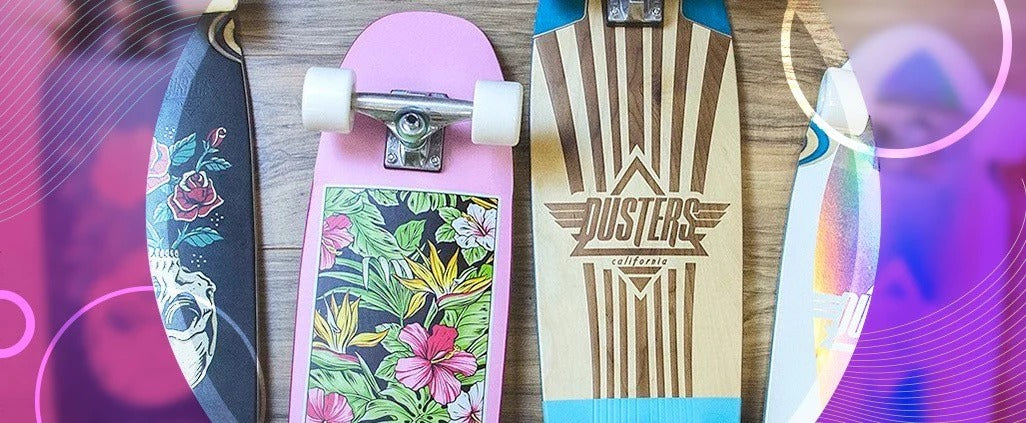 Dusters: Born from the heart and soul of skateboarding
Dusters' roots lie in the cradle of surf and skate culture in the golden haze of California. Born from the same spirit as in the 60's and 70's, when skateboarding, surfing and music were defined against the establishment.   
Dusters California is built by a team that understands, inside and out, the functionality of these boards with over 25 years of experience in the industry. Throughout all these years of skating and manufacturing, we have learned the importance of the fit and finish of a skateboard and that can be seen when analyzing every detail of the Dusters boards. Besides the core functionality, the meticulous fit and finish and the overall quality compared to other cruisers and longboards. 
Dusters California is not only focused on working every day to improve their designs, quality and bring you the best of the market but has also released a series of collaborations, to join forces with characters from the world of skateboarding. For example, one of the most clandestine and reviled artists in the United States, creator of lowbrow art and founder of Juxtapoz magazine: Robert Williams, also known as Mr. Bitchin'. 
He has also joined forces with the girls, in collaborations done in previous years such as "Girl is Not A 4 Letter Word" As part of the Dusters product line in 2018, GN4LW has partnered with artist Jim Rugg and his graphic comic book heroine, Street Angel. 
Dusters is such an amazing brand that managed to collaborate with one of the greatest skateboarding icons of all time! Mr. Steve Olson! Olson has a raw, uncut, in-your-face attitude that can be felt through both his skating and his art. He was the original tester for the Independent Stage 1 truck and his iconic Santa Cruz checkerboard model, which became the first use of full board graphics in seven-ply laminated maple. Fast forward almost 40 years of skateboarding history and Olson's legacy is still alive and strong, he was recently inducted into the Skateboarding Hall of Fame and became known for his controversial art and other collaborations in the fashion world. 
As you can see, this brand is crazy about making inclusive collaborations to show that skateboarding came out of surfing in the 60's, but it's here to stay. This brand, besides their beautiful designs, works hard for the skate lifestyle. They are always working on it; innovating, presenting new alternatives for new people joining the movement, and offering them a world full of magic: California is Skate! Dusters is pure Skate! 
Dare to know more of the epic collaborations made by Dusters, and their amazing designs at Longboardsusa.com and don't hesitate to read the many blogs we have for you, you will be amazed! 
Get to Know Dusters Longboard or Skateboard Designs
Explore more Longboard Brands and Series
Here you will discover the 3 great advantages of using the image of animals on your Longboard, stay here! Our board is the container of our values, of what we want it to represent our style and personality, or what we would like it to represent.
Skateboarding shoes are specifically designed to improve grip and flexibility while skating. They are usually built with reinforced rubber in high-impact areas and triple stitching for a durable fit. Skate shoes are a great choice to be a better skateboarder.
Kahuna Creations pays respect, honor, tribute and love for the Hawaiians who introduced board riding to the world hundreds of years ago. The word "Kahuna" means "Chief" or "Leader". Kahuna Creations' brand is driven to take a lead in remembering the Hawaiians and to always "Live Aloha"!