Best Longboarding Spots in the USA
You are already a Longboard lover, and you have everything ready to go out and ride. However, there is a question that comes to your mind. Where should I Longboard? Or what are the best places to practice longboarding?
Obviously, for longboarders, the place where you live plays a fundamental role in the search for the best spots to board. That's why throughout this article, we will show you the most characteristic places that provide the best downhill riding experiences in the United States, trust us, here you will find an option for all likes and levels! So let's keep reading!
Longboarders in the USA can find some great places to longboard
downhill
. The best way to enjoy this exciting sport is on a long downhill with a good surface. One of the main factors to consider when choosing the best place to practice is the steepness of the hills and the type of speed you can reach. Some of the best longboarding spots are located in an urban environment, while others are in beautiful natural settings.
Longboarding is allowed on many of the best bike trails in the United States, most of which have a smooth asphalt surface, while others may have to be shared with road traffic. Some of the best trails serve as links between nearby cities, and one trail takes longboarders across a state border on a high mountain pass.
Best Longboarding Spots in California
California is one of the best places to longboard since its climate is quite favorable and the best longboard brands, such as Santa Cruz, Z-flex, Dusters, etc, originate from Southern California. If you are new to California, you can start longboarding from Santa Cruz to the Southern freeway. That freeway will take you to the amazing Monterey along with Big South California.
Big Sur park offers multiple waterfalls along with some incredible scenery, ocean, and Rocky Mountain views. Therefore, riding on this highway will certainly be fun.
 San Luis Obispo is quite famous for its skatepark. A large number of hills surround this small town that is very suitable for skating.
The artistically designed SLO park covers a street on one side and "snake-run bowls" on the other. These bowls are perfect for cruisers and longboarders.
Los Angeles: After passing through SLO, you can try LA for another fascinating ride. No doubt it is an amazing place. Besides the historical fact that this sport was born here, Los Angeles is still perfect for longboard riders because of its roads and atmosphere. Any passionate rider would love to enjoy longboarding on LA's streets.
Coronado Island

 

is a trail that is made up of flat, curvy roads along with sidewalks that will take you to Imperial Beach. As you ride this 12-mile stream, you'll come across minimal traffic signs along the way. Also, the scenery here is quite relaxing and pleasing to the eye.
Balboa Park

 

is another great spot for longboarders, especially beginners. However, this area can get crowded over time. The trails here are not as smooth as the bike trails. Therefore, we suggest you use bigger wheels for a comfortable and enjoyable ride.
Mission Bay

 

is another great place to ride and skate, as the trail is quite long and is quieter than other areas of the bay. You can start pedaling from the information center to Clairemont drive, around mission Bay drive and fiesta island.
Golden Gate Park and Sunset District:

 

If you are looking for one of the best places in San Francisco for longboarding, these places will excite you. Golden Park has some steep hills, where you can enjoy some downhills. Turning south, you'll find the Sunset District, famous for its residential hills.
Napa Valley:

 

Longboarding here is fun for San Francisco riders. However, the valley's one-mile terrain is too rocky and gravelly. So we suggest you use big wheels while riding brown valley street.
Hidden Brook

 

is another great space for riders who like to skate on smooth roads and steep hills. Being a residential area, the streets have comparatively less traffic than urban regions.
Mountain View and Carmel area:

 

This rink is a famous place for longboarding because its smooth roads and hills often attract skaters from that zone. If you move further south, you will come across the Monterey district and the Caramel area, which has several longboard spots to amaze skaters.

Best Longboarding Spots in Kansas


The Indian Creek Trail is a 17-mile paved road that runs between Olathe and Kansas City. Portions of the wide asphalt path of this partially urban road run through dense forests. Although mostly flat, the Indian Creek Trail offers some fast downhill slopes for longboarders.
Best Longboarding Spots in Montana and Wyoming
Beartooth Pass, at the highest point in the Bear Tooth Mountains, links southern Montana with northwestern Wyoming. This exciting route is 21 miles long and runs some thrilling descents along the way. It is quite possibly the longest downhill longboarding route in the US. It is, without a doubt, one of the most beautiful regions to longboard through.
Best Longboarding Spots in New York:
Ithaca, New York, has become a popular spot for longboarders in the Northeast. Fast speeds are easily attainable on some of the hilly roads in the area, for example, Lake Street which is near the Ithaca Falls Natural Area. Here there is a good steep section, just over 400 meters, where speeds can pick up very quickly.
Best Longboarding Spots in South Dakota
Spearfish Canyon is located at the north end of the Black Hills of South Dakota. It is a very varied 12-mile trail with some long downhill longboarding slopes. The deep, narrow gorge also has some tight switchbacks that add a little more excitement to the challenge of riding Spearfish Canyon.
Best Longboarding Spots in Washington:
Green Lake Park is much better suited for first-time longboarders and those who prefer to ride down gentler slopes. For just under 3 miles, this asphalt-covered trail circles the entire lake.
The Soos Creek Trail follows a quiet scenic route that travels 4+ miles through wild forests. Don't be disappointed by the gentler grades found on the main part of this route because toward the end of this trail, there is a very fast descent for speed lovers.
Point Defiance Park is a much bigger challenge for those with longboarding experience. Here it is possible to reach speeds between 20 and 40 mph on some of the steepest hills along a five-mile trail. There is one section, lasting about a tenth of a mile, where longboarders have to make a fairly steep climb, but there are also many flat areas and some side trails worth exploring.


In the beginning, every rider starts longboarding in his area or neighboring towns. However, it's natural to get bored over time by cruising the same terrain every day. Luckily, the United States is full of longboard spots for passionate skaters.

Now that you know where you can practice this great sport, don't hesitate to visit our website to choose the perfect Longboard for you! Remember that we also have different parts and accessories to make your longboarding experience the best of all!
Explore more with these article pages
Going longboarding on Route 66? Then this is the perfect longboard series to use! Hit the roads, experience new places, and make this Longboard your adventure companion. It is a great stable board for downhill longboarding.
The ancestors believed that everything in nature was made up of the four basic elements: earth, air, fire, and water. It's a beautiful and elegant concept, and it's the driving force behind this incredible series of nature-inspired longboards. These earth-toned longboards are ready to be your riding partner.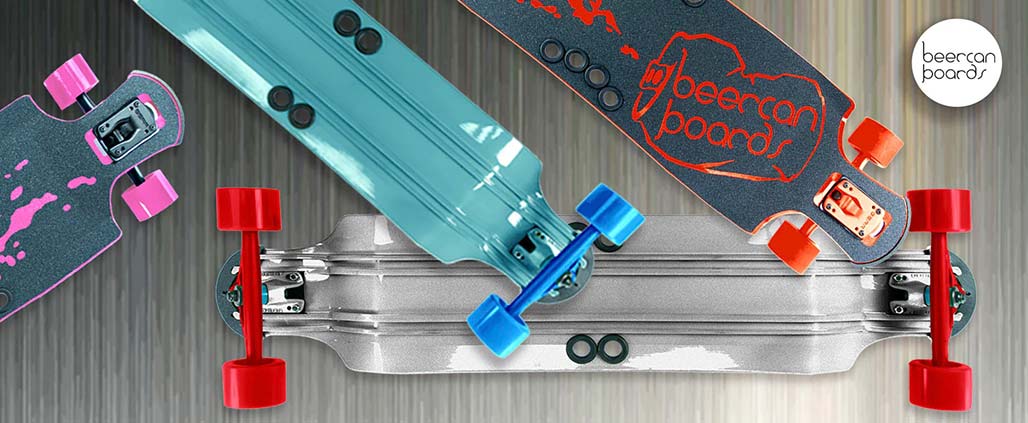 For those who love to ride and see new places on their Longboard, taking care of the environment is also important. Well, now you can do both thanks to Beercan boards. Let us tell you more!Beercan Boards' vision is to bring about a revolution in the skateboarding industry.