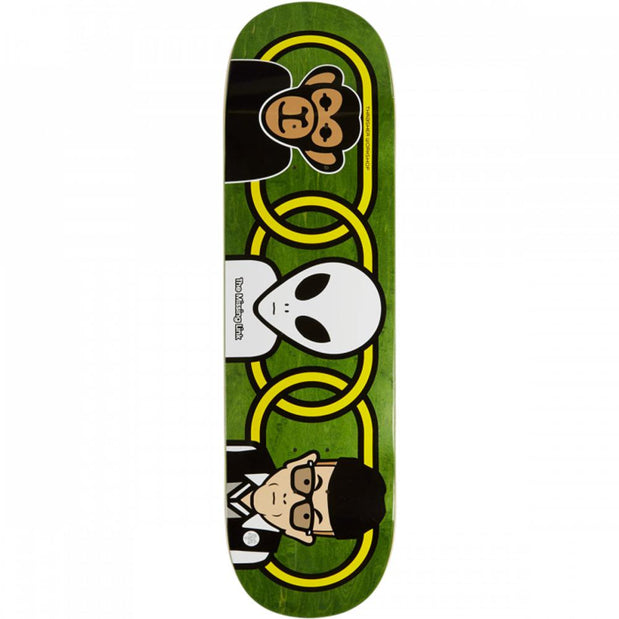 Alien Workshop Missing Phelps 8.75" Skateboard Deck
Estimated delivery date between: Saturday, December 9 and Thursday, December 14.
Product Description
Transform your skateboarding dreams into an otherworldly experience with the Alien Workshop Missing Phelps 8.75" Skateboard Deck. Engineered for durability and optimal performance, this top-of-the-line skateboard deck is perfect for mastering street-styled tricks and grinds, pushing the boundaries of what you thought was possible. Are you ready to ride like never before?
The Alien Workshop Missing Phelps 8.75" skateboard deck is a heartfelt tribute to the late skateboarding legend, Jeff Phelps, who left an indelible mark on the sport. The deck features an eye-catching graphic showcasing Phelps' portrait. This powerful imagery serves as a testament to Phelps' trailblazing spirit and his unwavering passion for skateboarding.
With seven layers of premium North American maple wood, this skateboard deck offers remarkable stability and resilience, ensuring that you can confidently tackle even the most challenging skate parks and street spots. The medium concave shape provides a comfortable and responsive riding experience, allowing you to seamlessly execute flips, grinds, and other tricks with precision and flair.
In addition to its outstanding performance, the Alien Workshop Missing Phelps 8.75" Skateboard Deck serves as a constant reminder of the skateboarding world's rich heritage. This deck is perfect for any skater who wants to pay homage to one of the pioneers of modern skateboarding while also pushing their own skills and creativity to the limit.
So, embrace the legacy of Jeff Phelps and embark on a thrilling journey with this extraordinary skateboard deck. How far will you go? How high will you soar? With the Alien Workshop Missing Phelps 8.75" Skateboard Deck beneath your feet, the possibilities are truly endless.
Specifications:
Width: 8.75"
Length: 32.25"
Wheelbase: 29.1-30.9"
Construction: 7-ply maple
Concave: Medium
Graphic: Jeff Phelps portrait
Color: Multicolor
Truck Mount: Top Mount
Product code:
ES-1DALI0MISPH87UU
Free Shipping on orders over

$99.99

* - only for a limited time
.
Usually ships in 1-2 Business days. Add 2-7 days for US delivery. We ship to all lower 48 USA states.
Disclaimers. Due to the many variations in phones, monitors, and browsers, the colors in pictures might be slightly different than on the final product. The pictures reflect the product as best as we can. However, sometimes components or color combinations are not available. Manufacturers reserve the right to substitute components on the longboard completes without notice which may alter the descriptions above. The substitution will always happen with equal or better-quality components. Sometimes a complete longboard is shown, whereas the offer is for a board only or vice versa, which is highlighted in the description.
*) some exceptions apply to free shipping - some custom products don't ship free and when shipping happens from multiple locations that might have some costs.