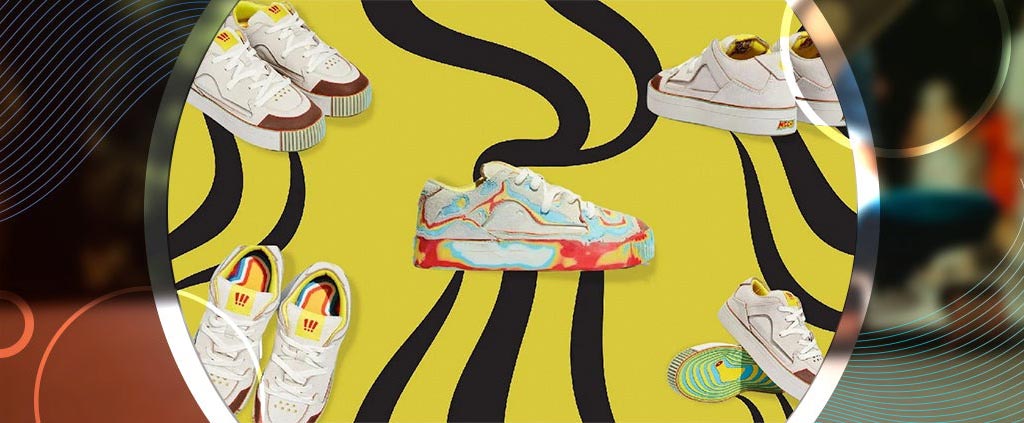 Skate shoes that change color as they wear out
Art collective MSCHF and TV host Jimmy Fallon have launched a line of sneakers designed to reveal different colors as they wear out from continued use. Named Gobstomper, the quirky footwear is inspired by candy that changes hue as it dissolves.

Fallon unveiled the collaboration on the show he hosts on NBC's "The Tonight Show." "If I'm going to make sneakers, they have to be something totally different, they have to be a game changer," he said of his approach to development. He also teased the idea of these sneakers containing comedian blood, alluding to the "Satan Shoes" that MSCHF created with rapper Lil Nas X in March 2021.



The Design

Gobstomper has been designed to display different colors on its surface as the gray suede wears through use. They will be available exclusively through the collective's mobile app and priced at approximately $195. Unlike previous releases, intended almost as works of art, these sneakers are an approach to urban dwelling.




"One thing we say a lot is that we make sneakers for people to wear," said Daniel Greenberg, co-founder and chief revenue officer of MSCHF, according to Fast Company. The purpose of the product is to encourage consumers to unleash their creativity, as they can apply tools to bring out the colors. "A lot of people clean their sneakers every day; this is the opposite. We want you to give them a beating. We want you to ruin them, scratch them, destroy them. If you keep it clean, it's still a good skate shoe, but it's just going to be a gray skate shoe."

MSCHF's first all-original design, the Gobstomper is inspired by the iconic Gobstopper candy. Similar to said confection, the shoes are made of many colorful layers, whose bright shades of red, yellow and blue are gradually unveiled with wear.

As with all of the collective's launches, its partnership with Jimmy Fallon has ironic overtones. The fact is that the presenter is a sneaker lover, but has never created one, and it is also a skate shoe, when Fallon does not know how to skate. These contradictions are what has been taken as the idea for the promotion of the shoes, which includes a series of photographs of Fallon falling off a skateboard and illustrating the website of the art collective.




Undoubtedly, these are sneakers that come to revolutionize the market, and the more you use them and the more they wear them, the more they will look like their creators want them to look: full of color.

It can be a good alternative for those who want to look innovative when going out skating with their friends in the neighborhood, a unique way!

If you want to know more about skate shoes, accessories, protective gear, longboard riding styles and much more, you can take a look at our website. I assure you that you won't regret it.
Explore more with these article pages
Tony Hawk was one of the most influential skateboarders of all time. Don't forget he was a Goofy skater, and it is no coincidence the nickname he earned for his cool tricks that made the whole world perceive that Tony flew like a bird.
Skateboarding shoes are specifically designed to improve grip and flexibility while skating. They are usually built with reinforced rubber in high-impact areas and triple stitching for a durable fit. Skate shoes are a great choice to be a better skateboarder.
Skateboarding has its roots in surfing. At some point in the 1950s, a group of surfers came up with bindings for wooden planks so they could "street surf" when there were no waves. The first skates were heavy, clunky, with metal and clay wheels.