Surf the Concrete Waves with JUCKER HAWAII Longboards
Looking for a longboard that makes you feel like you're surfing the best waves? Well, then JUCKER HAWAII longboards are made for you! Jucker Hawaii longboards are one of the most popular and best-selling longboards in the United States and Europe thanks to their incredible quality, unique designs, and tropical style artwork. 
These popular designs have been created by Mike Jucker, a traveler and passionate surfer who now lives on the island of Maui in Hawaii. His art and creativity have absorbed the island and its environment to bring us creations inspired by the Hawaiian lifestyle. In the collection, you will find colorful designs, but also simpler classics. So if you want a complete longboard that meets the highest quality standards and brings the feel of the pro surfers to your home, then
JUCKER
HAWAII 
is just what you have been waiting for.
JUCKER HAWAII longboards
reflect the carefree lifestyle of Hawaii, this beautiful place in the Pacific. So whether you're a surfer or a land skater who dreams of tropical vibes and perfect waves, Jucker Hawaii longboards will give you the time of your life.

JUCKER HAWAII combines the best of the Hawaiian lifestyle with tropical-inspired designs. This, combined with the quality of the boards, has made Jucker Hawaii a very popular longboard brand in Europe and the United States.

Hawaii is an ideal location for ocean and board sports. That's why surfers also love to roll out on flat days riding their longboards on the island's stunning mountain highways. So inspired by that, with this brand you will find high-quality products at an affordable price.
Be "Pono" – Do what's right!
As a local Hawaiian company it is important to operate with the respect of the Hawaiian Culture: Respect the Land, Respect the Ocean! Do what is right, be "Pono". Give back from where you take.

Enjoy your trip and feel like surfing the concrete waves of the pacific with Jucker Hawaii Longboards! Just like this great brand, on Longboards USA, we have different collections and many brands that you can adapt to your personality and lifestyle. Also, you can find all kinds of accessories and spare parts to set up your ideal longboard or just get a complete one by exploring our website.


Check out the Jucker Hawaii Longboards
Explore more Longboard Brands and Series
The ancestors believed that everything in nature was made up of the four basic elements: earth, air, fire, and water. It's a beautiful and elegant concept, and it's the driving force behind this incredible series of nature-inspired longboards. These earth-toned longboards are ready to be your riding partner.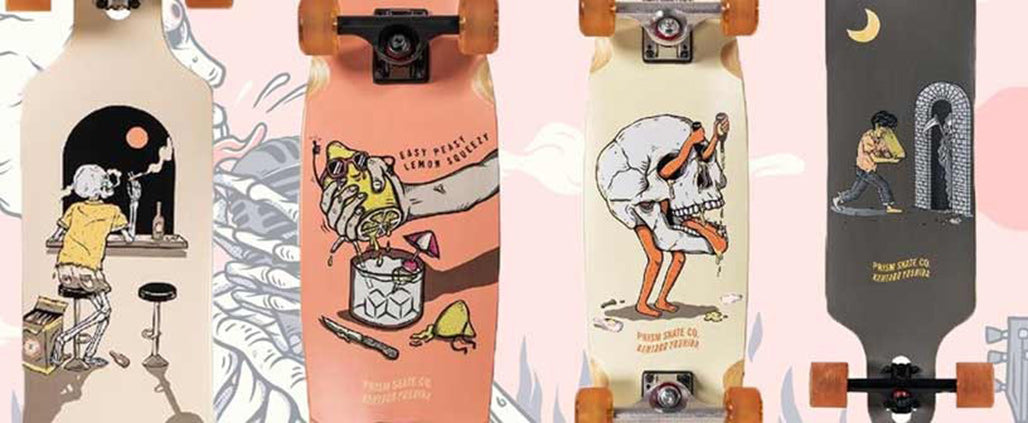 The perfect longboards for any type of skater! A series of longboards ideal for those taking their first step into this world of adventure or for the experienced rider looking for tried and true performance.
Hey there! Are you a fan of the color green? Well, you're in luck! Green is a vibrant and youthful color that represents new beginnings, envy, and hope. It's the perfect color for your longboard or skateboard, and we've got plenty of options for you to choose from. Just take a look at these beauties!