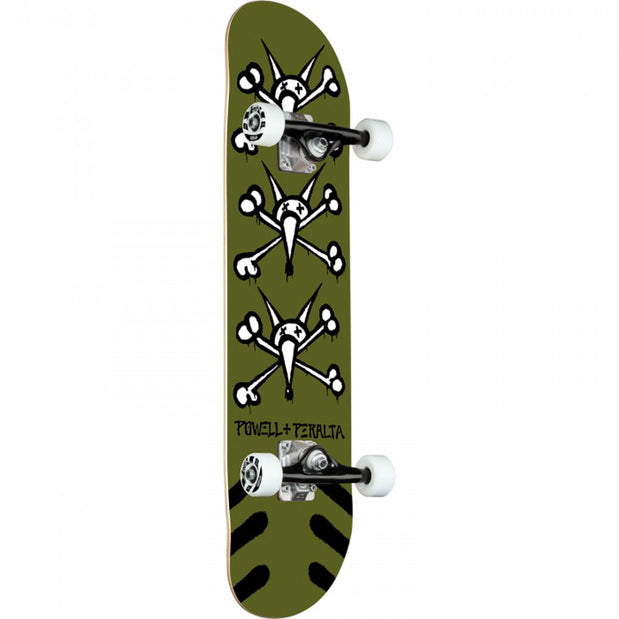 Product Description
Jump into the adrenaline-pumping world of skateboarding with the distinctive Powell Peralta Vato Rats 7.0" Olive Skateboard. This exceptional skateboard is a product of Powell-Peralta, a brand revered in the skating community for its unparalleled quality and innovative designs. The Vato Rats One Off Olive Birch Complete Skateboard is not just an ordinary skateboard—it's a statement, a lifestyle, and your ticket to thrilling adventures on wheels.

Now let's spill the beans! This skateboard is made with hard yellow birch, a testament to its durability and strength. But don't be fooled by the strength—this board is as light as a feather! It's been fused together with water-resistant glue in proprietary Powell-Peralta AirLam presses, ensuring maximum stiffness, strength, pop, and durability. Here's a fun fact for you: the skateboard bears a unique Vato Rats artwork, created by artist Craig Stecyk. Inspired by the Hispanic gang culture and graffiti of the 1970s Santa Monica Dogtown "Z-Boy" surf-skate scene, the Vato Rat was used to mark territories at local surf spots. Talk about a board with a rich history!

Specifications:

- Deck Wheelbase: 11.5"
- Deck Length: 28"
- Deck Width: 7"
- Deck Nose: 6.3"
- Deck Tail: 6"
- Wheel Core: None
- Wheel Diameter: 53mm
- Wheel Hardness: 90a
- Wheel Formula: Street
- Wheel Color: White
- Wheel Suggested Use: Street
- Wheel Surface: Smooth


Embrace the thrill of skateboarding with the Powell Peralta Vato Rats 7.0" Olive Skateboard. It's not just a ride—it's a wave of exhilarating freedom. So buckle up and let the adventures begin!
Product code:
ES-1CPOR0VTRAT70G5
Free Shipping on orders over

$99.99

* - only for a limited time
.
Usually ships in 1-2 Business days. Add 2-7 days for US delivery. We ship to all lower 48 USA states.
Disclaimers. Due to the many variations in phones, monitors, and browsers, the colors in pictures might be slightly different than on the final product. The pictures reflect the product as best as we can. However, sometimes components or color combinations are not available. Manufacturers reserve the right to substitute components on the longboard completes without notice which may alter the descriptions above. The substitution will always happen with equal or better-quality components. Sometimes a complete longboard is shown, whereas the offer is for a board only or vice versa, which is highlighted in the description.
*) some exceptions apply to free shipping - some custom products don't ship free and when shipping happens from multiple locations that might have some costs.