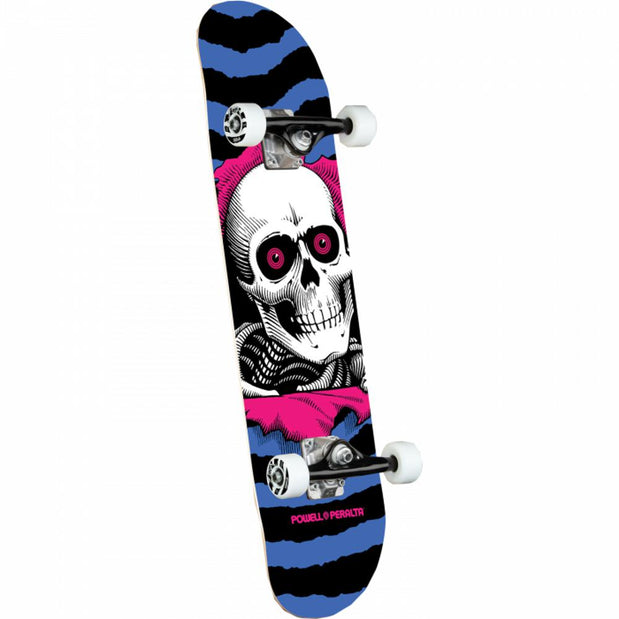 Powell Peralta Ripper 7.0" Blue/Pink Skateboard
Regular price
$ 94.92 USD
$ 0.00 USD
Estimated delivery date between: Thursday, December 7 and Tuesday, December 12.
Product Description
Step into the world of skateboarding with the Powell Peralta Ripper 7.0" Blue/Pink Skateboard. This stunning piece, painted in a striking combination of blue and pink, features the iconic Powell Peralta Ripper design, signifying the brand's legacy in skateboarding history. The skateboards from Powell Peralta are known for their quality and durability, making them the choice of professionals and beginners alike. This skateboard is not just a mode of transportation, but a statement of style and personality that sets you apart from the crowd.

The Powell Peralta Ripper 7.0" Blue/Pink Skateboard is made from hard yellow birch, a material known for its strength and lightness. This ensures that your skateboard is sturdy and durable, capable of withstanding the rigors of daily use. The skateboard is crafted using the proprietary Powell-Peralta AirLam presses and is fused with water-resistant glue. This process guarantees maximum stiffness and strength, resulting in a board that delivers optimal performance. Furthermore, the skateboard also offers great pop, making it perfect for tricks and stunts.

Specifications:

- Deck Wheelbase: 11.5"
- Deck Length: 28"
- Deck Width: 7"
- Deck Nose: 6.3"
- Deck Tail: 6"
- Wheel Diameter: 53mm
- Wheel Width: 32mm
- Wheel Hardness: 90a
- Wheel Formula: SHR Super High Rebound
- Wheel Color: White
- Wheel Surface: Smooth
- Truck Make: Mini Logo

The Powell Peralta Ripper 7.0" Blue/Pink Skateboard is designed with an unwavering commitment to quality and performance, making it a perfect choice for skateboard enthusiasts. Whether you're a beginner looking to learn the ropes or a seasoned pro looking for a reliable board, this skateboard is an excellent pick.
Product code:
ES-1CPOR0RIPR70BBP
Free Shipping on orders over

$99.99

* - only for a limited time
.
Usually ships in 1-2 Business days. Add 2-7 days for US delivery. We ship to all lower 48 USA states.
Disclaimers. Due to the many variations in phones, monitors, and browsers, the colors in pictures might be slightly different than on the final product. The pictures reflect the product as best as we can. However, sometimes components or color combinations are not available. Manufacturers reserve the right to substitute components on the longboard completes without notice which may alter the descriptions above. The substitution will always happen with equal or better-quality components. Sometimes a complete longboard is shown, whereas the offer is for a board only or vice versa, which is highlighted in the description.
*) some exceptions apply to free shipping - some custom products don't ship free and when shipping happens from multiple locations that might have some costs.