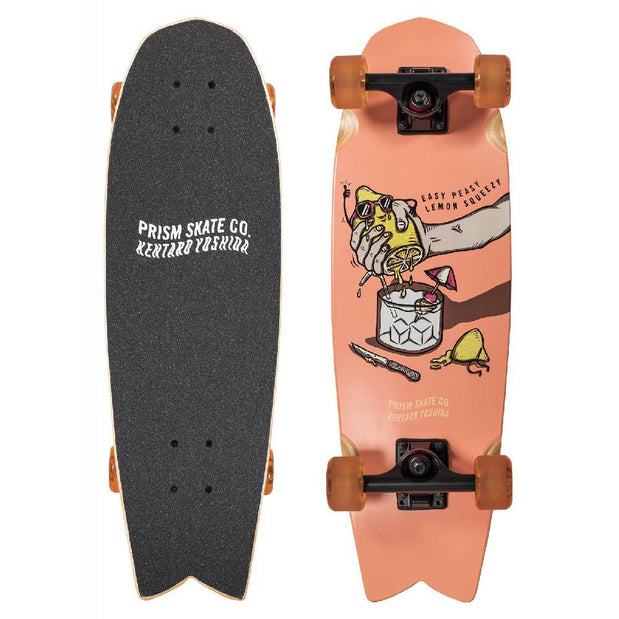 Prism Grit 27" Cruiser Longboard Skateboard - Kentaro Series
Regular price
$ 98.92 USD
$ 0.00 USD
XM-Coupon:
Coupons are valid for a limited time only.
We reserve the right to modify or cancel coupons at any time.
You must purchase when the coupon is in effect for the discount to apply.
Only 1 coupon per Order
Estimated delivery date between: Friday, December 15 and Wednesday, December 20.
Product Description
Wow, this longboard truly captures the essence of easy, enjoyable riding and promises an abundance of fun! Designed by the renowned Japanese-Australian artist Kentaro Yoshida, this board not only showcases his unique artistic vision but also delivers outstanding performance for riders of all skill levels.
Kentaro's fusion of Japanese and Australian influences is evident in the board's design, which features his signature pastel tones, striking lines, and whimsical characters. As a result, the longboard is not only visually stunning, but also a reflection of the diverse cultural background that inspires its creator.
The easy-to-ride design ensures that even novice riders can effortlessly glide through the streets, while experienced skaters can appreciate the board's exceptional handling and carving capabilities. Regardless of your skill level, the Kentaro Yoshida-designed longboard guarantees a thrilling, one-of-a-kind experience that you won't soon forget.
Whether you're carving around town, cruising along the beach, or tackling downhill rides, this longboard will undoubtedly bring you endless hours of joy and excitement. So, gear up, hop on, and embrace the unparalleled performance and style that the famous Kentaro Yoshida longboard has to offer.
Specification
Length: 27"
Width: 8"
Wheelbase: 15"
Complete includes:
8.0″ Caliber Standard
60 mm/78A Prism Wheels
Blood Orange Bearings
Artwork by Kentaro Yoshida
Growing up in a charming fishing village in Toyama, Japan, Kentaro was immersed in the tranquil allure of the countryside. At 18, he ventured to Australia, seeking to learn English, explore sun-drenched beaches, and embrace a more balanced way of life. A decade on, Kentaro has established himself as a skilled illustrator and artist, now residing in the scenic Northern Beaches of Sydney.
Embracing both traditional and digital techniques, Kentaro's artwork is characterized by its soft pastel hues, striking line work, whimsical characters, and a coastal-inspired sense of humor. Demonstrating his artistic range, Kentaro also specializes in hand-painted art, from grand-scale murals to intricate designs on delicate watercolor paper.
Product code:
MA-CDECPRIKENGRI
This premium product is designed and made in the USA, and we're proud of it!
Free Shipping on orders over

$99.99

* - only for a limited time
.
NOTE: These boards are special made to order
and usually ship in 8-15 Business days. Add 2-7 days for US delivery. We ship to all lower 48 USA states.
Disclaimers. Due to the many variations in phones, monitors, and browsers, the colors in pictures might be slightly different than on the final product. The pictures reflect the product as best as we can. However, sometimes components or color combinations are not available. Manufacturers reserve the right to substitute components on the longboard completes without notice which may alter the descriptions above. The substitution will always happen with equal or better-quality components. Sometimes a complete longboard is shown, whereas the offer is for a board only or vice versa, which is highlighted in the description.
*) some exceptions apply to free shipping - some custom products don't ship free and when shipping happens from multiple locations that might have some costs.