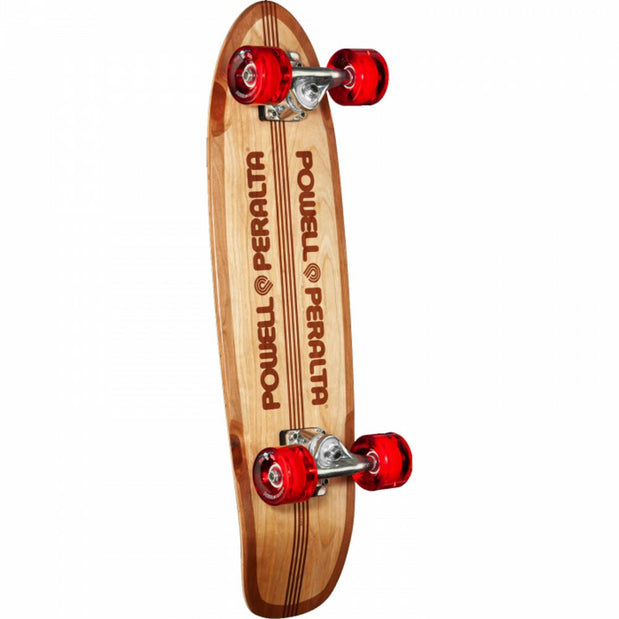 Powell Peralta Surfer Quad Stringer 8.37 Natural Skateboard
Regular price
$ 119.92 USD
$ 0.00 USD
Estimated delivery date between: Friday, December 8 and Wednesday, December 13.
Product Description
Ride the pavement waves with unparalleled style on the Powell Peralta Sidewalk Surfer Quad Stringer Birch Complete Skateboard. This wonder on wheels brings the thrill of surfing to the city streets, capturing the essence of freedom and adventure in every ride. Crafted with mastery, this skateboard's design is inspired by the shape of a surfboard, exuding a classic retro vibe that's sure to turn heads. It's not just a mode of transport, it's a lifestyle choice that underlines your love for the unconventional. Cherish every ride, carve every turn, and surf the sidewalk like never before with Powell Peralta.

So, you think you can't surf on concrete? Well, think again! The Powell Peralta Sidewalk Surfer Quad Stringer Birch Complete Skateboard is here to challenge your preconceived notions. With its surfboard-like shape, this board is built to carve, turn, and roll like you're riding the Pacific waves - except you're on pavement. And let's not forget the classic stained wood graphics and integrated wheel wells. It's like the Beach Boys decided to make a skateboard! This board isn't just a vehicle, it's a portable party on wheels. So, strap on your helmet and prepare to cruise in style!

Specifications

- Crafted from strong, light, hard yellow birch for maximum stiffness, strength, pop, and durability.
- Length: 28.2"
- Width: 8.37"
- Wheelbase: 15.0"
- Deck Nose: 3"
- Deck Tail: 6"
- Wheel Diameter: 60mm
- Wheel Width: 45mm
- Wheel Hardness: 80a
- Wheel Formula: Clear
- Wheel Color: Red
- Wheel Suggested Use: All Terrain
- Wheel Surface: Smooth
- Truck Make: Mini Logo

Product code:
ES-1CPOR1SWQST83N2
Free Shipping on orders over

$99.99

* - only for a limited time
.
Usually ships in 1-2 Business days. Add 2-7 days for US delivery. We ship to all lower 48 USA states.
Disclaimers. Due to the many variations in phones, monitors, and browsers, the colors in pictures might be slightly different than on the final product. The pictures reflect the product as best as we can. However, sometimes components or color combinations are not available. Manufacturers reserve the right to substitute components on the longboard completes without notice which may alter the descriptions above. The substitution will always happen with equal or better-quality components. Sometimes a complete longboard is shown, whereas the offer is for a board only or vice versa, which is highlighted in the description.
*) some exceptions apply to free shipping - some custom products don't ship free and when shipping happens from multiple locations that might have some costs.