Where best to buy a Longboard
You are looking where to buy longboards, look no further.
What is your riding style?
Want to ride, glide or slide?
Ride on the street, hill, boardwalk, campus or the skate park, you can get a board from us.
You can buy at your local skate shop or here online. It doesn't really matter as long as you pick the right board for you.
Several factors apply to your board selection so think about it carefully and make an educated choice. Want to ride fast, relaxed, do trick or just commute?
Are you a beginner or riding for years? This can hugely impact your board requirements.
Bad boards don't really exist as boards are getting better and better every year, its just like cars, every year there are new models with improved specs.
However, just like with gadgets, not everybody needs the latest model or can afford the greatest one. You can make a phone call with this year shiny object, however an older model can get the job done too. It all depends on your desires, budget and needs.
We have several hundred of complete longboards available for you to choose from as well as many options to put your own board together.
Below some boards, for different riding styles, do check out all the
Complete longboards
,
or select your riding style
There are many research websites which list the "best of the best" boards and although they look legit the majority is set up to sell you a specific brand or drive you to amazon or ebay.
We don't carry all brands and there are definitely great boards available from top brands like arbor or original skateboard we don't carry.
If that's what you are looking for, feel free to browse around the web and find the perfect one for you
We have a great selection from many great and longtime longboard brands you definitely will enjoy.
So where best to buy a longboard is here at the store, shop around and ask questions.
Below some of the top longboards we have available for you right now, here at our longboard store.
Look at the
longboard decks
and see if this is that's a great starting point for you next purchase
Explore more with these articles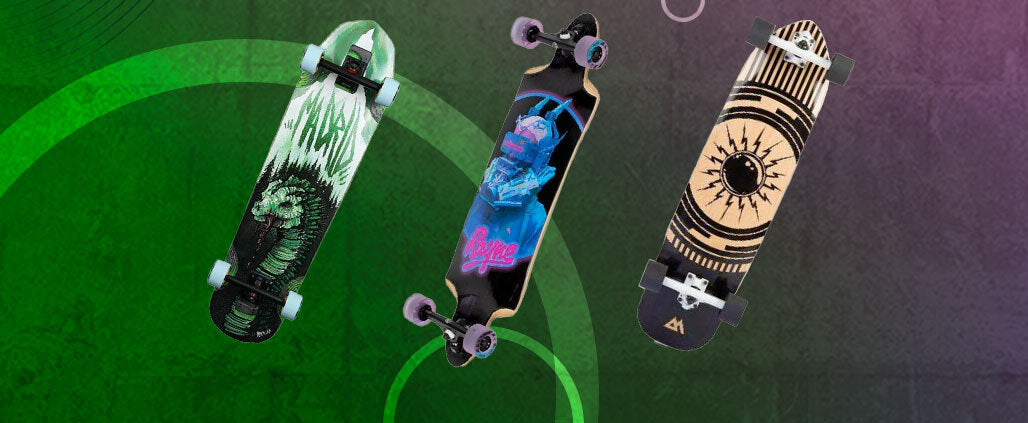 Downhill longboarding is an exhilarating activity that requires specialized equipment to ensure safety and success. One crucial component of a downhill longboard is its length, as it directly impacts its stability and maneuverability. Check it out!
History is written every day, but only icons, manage to leave their mark on it to become legends. This is the story of Madrid Skateboard, a flagship brand that managed to reach Hollywood and Netflix, thanks to the innovation, quality and perseverance of its creators.
Alien Workshop Skateboards is a company that has been a major player in the skateboarding industry for over two decades. The company was founded in 1990 in Dayton, Ohio by Chris Carter, Neil Blender, and Mike Hill.