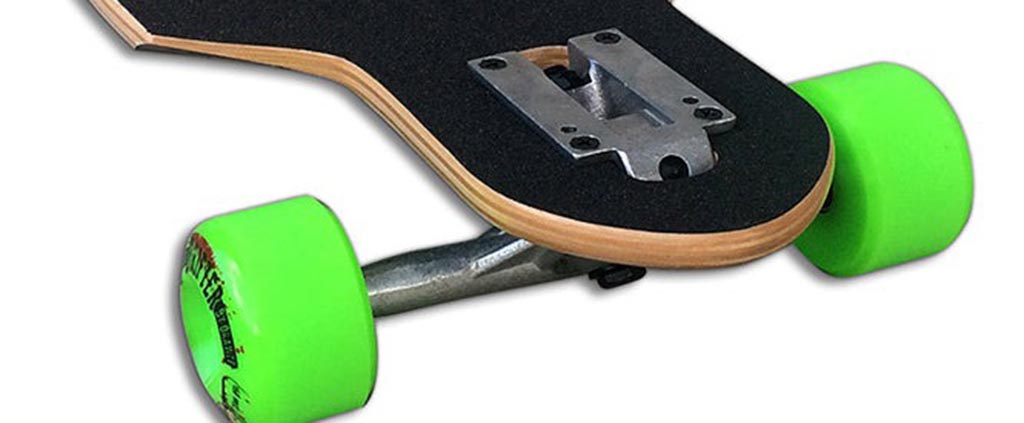 Drop Thru Longboard
A
Drop Thru Longboard
or Drop Through longboard is in most cases a symmetrical board that has a cut out at the front and end, allowing the base of the trucks to be mounted through the deck.
As a specialist in skateboarding, I can tell you that drop-thru longboards are especially well-regarded for their stability and versatility. Due to their lower clearance from the ground, they facilitate improved balance and control, particularly at elevated speeds. This design aspect enhances your ride's stability by reducing the center of gravity, thus ensuring a safer downhill or high-speed journey.
Additionally, drop-thru longboards are renowned for their symmetrical shape, making maneuvers such as 180-degree slides or simply reversing your direction much simpler as you don't need to physically turn the board around.
This type of longboard is highly adaptable and is ideal for a variety of activities, including casual cruising, freeriding, or downhill racing. You'll appreciate the precision it offers when carving and sliding, courtesy of its unique design.
Many brands offer these boards in varying lengths, and they can be purchased either blank or adorned with unique designs. Moreover, if you prefer a more personalized touch, you can simply buy the drop-thru deck and choose your preferred trucks and wheels to create a board that's tailored to your style and needs.
To make your selection process simpler, we've curated a list of notable drop-thru longboards. To access a wider range, you can explore this link: Drop Thru longboards. This will provide you with an extensive choice, enabling you to find the board that best suits your style and riding requirements.
Get to know our Drop Thru (or Through) Longboards
Explore more with these articles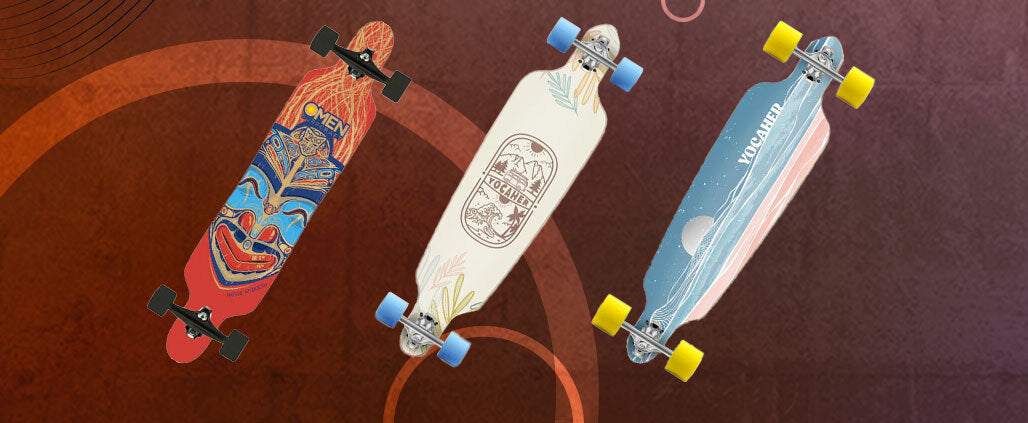 Looking for a versatile longboard that can handle cruising, downhill riding, and sliding? Look no further than the drop through longboard! These boards come in a range of lengths and materials, but the 41 inch size is a favorite among many riders.
Hey there! Are you a fan of the color green? Well, you're in luck! Green is a vibrant and youthful color that represents new beginnings, envy, and hope. It's the perfect color for your longboard or skateboard, and we've got plenty of options for you to choose from. Just take a look at these beauties!
If you are starting in the world of skateboarding, surely one of the things you are asking yourself is which wheels are best suited to my skateboard and my way of skating? Well, just as boards vary from one brand to another, from one style to another, trucks and other accessories also vary.
FAQ about Drop Thru Longboards
What is a drop through longboard?
A drop through longboard is a type of longboard that has the trucks mounted through the deck, rather than on top of it. This lowers the center of gravity of the board, which makes it more stable and easier to control.
What are the benefits of a drop through longbo
Drop through longboards offer a number of benefits, including:
Stability: The lower center of gravity makes drop through longboards more stable, which is ideal for downhill and freeride riding.
Ease of control: The lower center of gravity also makes drop through longboards easier to control, which is great for beginners and experienced riders alike.
Cruising: Drop through longboards are also great for cruising, as they offer a smooth and comfortable ride.
What are the drawbacks of a drop through longboard?
Drop through longboards do have a few drawbacks, including:
Weight: Drop through longboards can be heavier than other types of longboards.
Wheel clearance: The lower center of gravity can make it difficult to clear obstacles with drop through longboards.
Flex: Drop through longboards tend to be less flexy than other types of longboards, which can make them less comfortable for some riders.
How do I maintain a drop through longboard
To maintain a drop through longboard, simply clean it with a damp cloth and avoid riding in wet conditions.
How long will a drop through longboard last?
A drop through longboard can last for many years with proper care. However, it is important to inspect the board regularly for any signs of wear and tear.